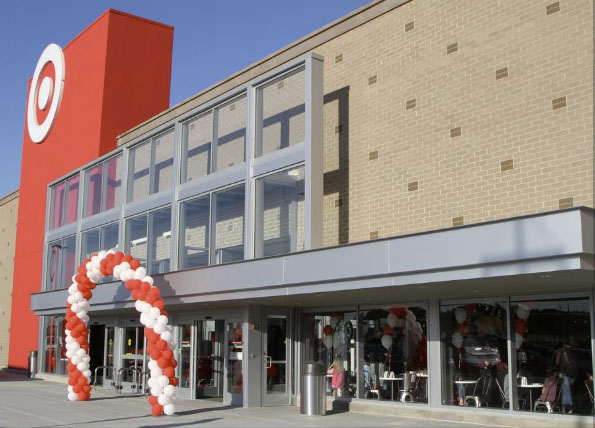 Target is using its newest Central Ohio store to show off the brand's new modern image.
The retailer opened its 16th Columbus location on the edge of Columbus near Westerville and New Albany Tuesday night. The 125,000-square-foot location at 6030 N. Hamilton Road is a new anchor space for the Hamilton Quarter development at the intersection of Hamilton Road and Route 161. 
While some familiar areas like apparel, toys and sporting goods are much the same as classic stores, this store includes some additional high-tech features. Customers can order items online and pick them up at a specialized in-store area within an hour. There's also a drive-up that lets customers place an order on the Target app and have the item brought to their car.
Check out the slideshow with this story to see inside the new Target.
This Target also has a store-within-a-store CVS Pharmacy, as well as a new Starbucks, plus greatly enlarged electronics and fresh produce sections, said Phillip Strodes, store director. Design elements include more LED lighting, a more modern flooring and larger center aisles. It employs 150 people.
"There's been a lot of planning for this building," Strodes said. A Target in the area, he said, "has been 15 years in the making."
City permits show the building cost about $10.5 million to construct.
This new location reflects the new look and design for Minneapolis-based Target Corp.'s full-sized suburban shopping center anchor stores, which complement it much ore compact urban locations, like the one that opened near Ohio State University on High Street last year.
Casto, New Albany Co. and Daimler Group Inc. are developing the Hamilton Crossing project, which has been under construction in phases for several years on one of the largest undeveloped tracts in Columbus city limits. The project is anchored by the 320,000-square-foot Big Lots corporate headquarters that opened last year. It has medical and residential components as well.
This 40-acre phase of the development, immediately south of a planned $95 million, 31-acre Ohio State University Wexner Medical Center campus, has leasing commitments for about 90% of its 250,000 square feet of inline retail space, including a 55,000-square-foot Hobby Lobby, Five Below, Aqua Tots and a host of other smaller retailers. 
Overall the development will have 400,000 to 500,000 square feet of retail space with follow-on phases.